SRI LANKAN NAVY ARRESTS POOR INDIAN TRAWLERS
 Plight of Indian Fishermen Arrested by Sri Lankan Navy: A Cry for Government Intervention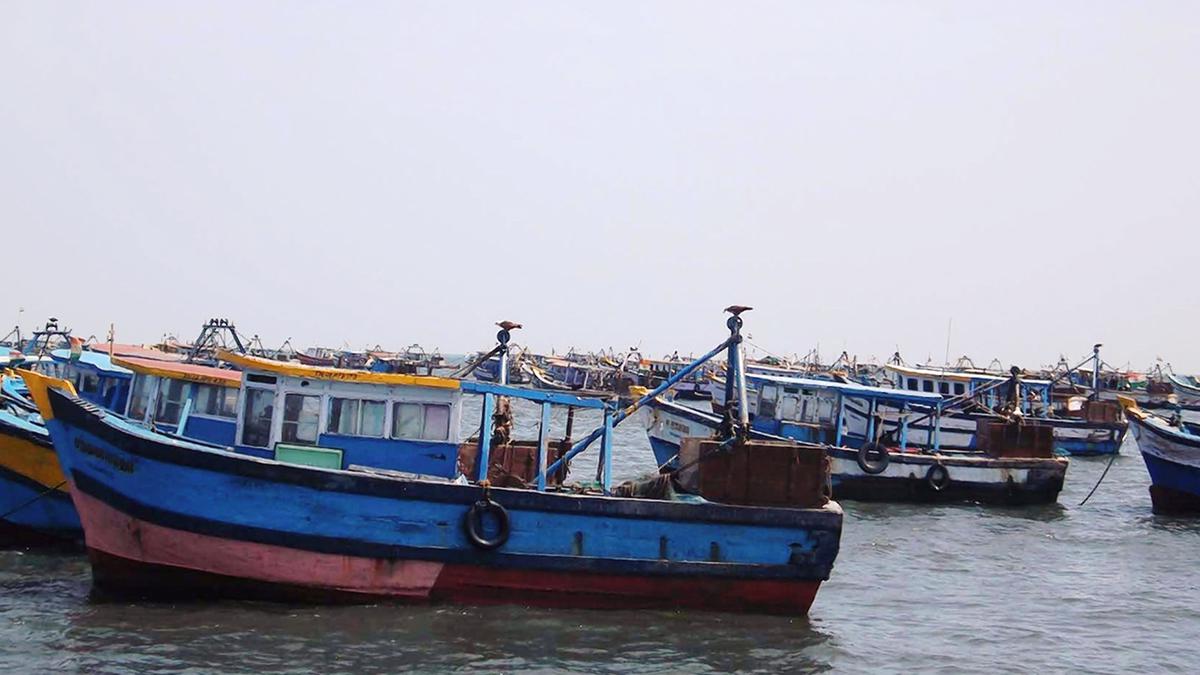 https://th-i.thgim.com/public/incoming/78jxwp/article67306062.ece/alternates/LANDSCAPE_1200/IMG_Fishermen.jpg_2_1_AFADSVFH.jpg
In a distressing turn of events, seventeen fishermen from Pudukottai and Rameswaram found themselves in dire straits when they were arrested by the Sri Lankan Navy on September 14th. The charges levied against them revolved around allegations of trespassing while fishing in the waters near Sri Lanka. This incident has once again shed light on the ongoing challenges faced by Indian fishermen operating in these contentious maritime regions.
Pudukottai District Fishermen:
Among the arrested fishermen, nine hailed from Pudukottai district. Four of them, identified as N. Arun (36), G. Marudhu (42), K. Sundaram (35), and S. Selvaraj (38), embarked on their fishing expedition on board a mechanized boat bearing the registration number IND TN08 MM 214, departing from the Kottaipattinam fishing harbor on September 13th. Simultaneously, another group of five fishermen, namely R. Kesavan (32), R. Kumar (38), K. Muthu (43), R. Guna (20), and Murugesan (45), set sail on a mechanized boat registered as IND TN 16 MM from the Jagadapattinam fishing harbor on the morning of the same day.
While these nine men were diligently pursuing their livelihood in the vicinity of 'Neduntheevu,' they were apprehended by the Sri Lankan Navy on charges of trespassing. Coastal Security Group sources reported that they were subsequently taken to the Kankesanthurai Naval base for further inquiry, leaving their families back home in a state of anguish.
Rameswaram Fishermen:
Meanwhile, eight fishermen from Rameswaram, including a minor boy, faced a similar fate when they were arrested by Sri Lankan Navy personnel on September 14th. These fishermen were detained on charges of poaching, and their mechanized boat was impounded. Furthermore, their entire catch was confiscated and taken to a harbor in Sri Lanka.
The arrested Rameswaram fishermen were identified as R. Arun (36), A. Sahaya Kingston Raj (38), M. Balamurugan (50), A. Innasi (46), C. Karl Marx (41), and S. Murugan (52). This incident underscores the recurring challenges that Indian fishermen from Rameswaram face when venturing into these disputed waters for their livelihood.
The Urgent Need for Government Intervention:
The fishermen community, as well as their leaders, have called upon the governments, both at the state and central levels, to urgently intervene and secure the release of the arrested fishermen. The livelihoods of these individuals are once again hanging in the balance, as they grapple with the uncertainty of their future and the well-being of their families.
Fishermen leader Jesu Raja has voiced the concerns of his community, emphasizing the critical role that government intervention plays in safeguarding their livelihoods and ensuring their safe return. He highlights that the livelihood of these fishermen is once again under immense stress, and their hopes are pinned on the Union government's efforts to secure the release of both the fishermen and their impounded boats.
MUST READ:https://top10techz.com/womens-reservation-bill/
The recurring incidents of Indian fishermen being arrested by the Sri Lankan Navy underscore the need for diplomatic dialogue and long-term solutions to address the longstanding issues in these contested waters. The governments of India and Sri Lanka must work collaboratively to establish mechanisms that ensure the safety and security of fishermen from both nations while preserving their means of sustenance.
In conclusion, the recent arrests of Indian fishermen by the Sri Lankan Navy serve as a stark reminder of the challenges faced by these individuals as they seek to earn a livelihood in disputed maritime territories. The onus is now on the governments of India and Sri Lanka to expedite diplomatic efforts to secure the release of the arrested fishermen and to work towards a sustainable resolution to prevent such incidents from recurring in the future.